The Mahoyo Project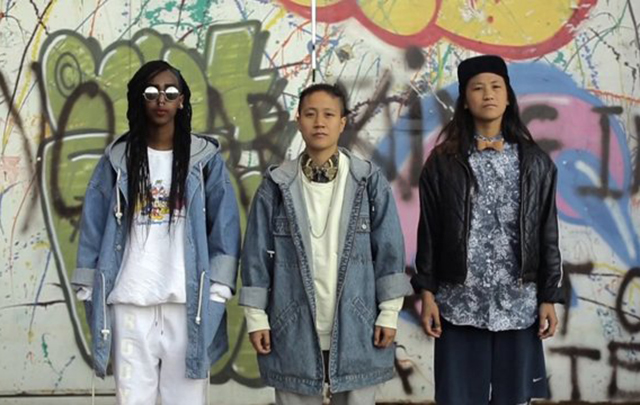 The Mahoyo Project is a documentary about the Swedish creative trio Mahoyo and their journey to Johannesburg, South Africa. In the growing cultural scene in Johannesburg, Mahoyo collaborates with local artists who all have counterparts in the creative scene in Stockholm where the collaboration continues. In both places we see a budding movement where norms and stereotypes are challenged.
This story aims to break stereotypes of gender, race and location.
Director: Moira Ganley
Co-Director: MyNa Do, Farah Yusuf & Gustaf Nord.
Producer: Mahoyo &
Flip-Flop Interactive
Executive Producers MyNa Do, Pia Do, Farah Yusuf
Executive Producers Moira Ganley, Gustav Nord, & Koen Dirk van Esterik
Assistant Producer Kaya Hatcher
Animations Sanna Morén & Koen Dirk van Esterik
Music by: Bhubesii, Ison & Fille, Kings of the Universe, MeiYáo, Neva Deelay, Silvana Imam
Supported by:
Swedish Film Institute
,
Urbanears
, Swedish Embassy of Pretoria & Kickstarter supporters.
SCREENING
2016-06-26 15:00 Sideroom @Butcher's Tears, AMSTERDAM
2016-03-13 14:00
RapidLion, JOHANNESBURG
2016-02-03
Världskulturmuseet, GÖTEBORG
2015-12-02 27 Boxes, JOHANNESBURG
2015-10-26
Unga Klara, STOCKHOLM
2015-10-17 Afrikagrupperna @Teater Tribunalen, STOCKHOLM
2015-10-01 Fisksätra Kulturhus, STOCKHOLM
2015-07-31
Blackstar Film Festival, PHILADELPHIA
2015-09-04 Skolbio Skarpnäck, STOCKHOLM
2015-07-24
Cutie.BPOC Festival Berlin
2015-06-13 Feminist Festival @Moriska Paviljongen, MALMÖ
2015-03-05 World Premiere Tempo Film Festival @Victoria, STOCKHOLM
AWARDS & NOMINATIONS
SIMA 2016 Jury Prize for INNOVATION in the IMPACT VIDEO Category
Tempo Film Festival 2015 New Doc Nomination
Contact documentary@mahoyo.com for screening inquiries & questions.
Very special thanks to
Lethabo Boogy Maboi and Phola Gumede
Extra special thanks to our Johannesburg supporters:
Anthony Bila, Bianca and Khaya Sibiya, Brian and Vaughn Molepo, Colleen Balchin, Jonathan Pinkhard, Lebohang Nova Masango, Lulama Birdaffi Ntaka, Nobantu Blue Baba, Mpho Moloto, Nikiwe Dlova, Senzo Mncadi, Stephanie Conner, Tiisetso 'Urban Mosadi' Molobi, V.I.N.T.A.G.E CRU, Zoleka Ngobese
Extra special thanks to our Stockholm supporters:
Amie Bramme, AnnaMagnolia Lönn, Antonia Rodrigues Da Silva, Ardalan Esmaili, Astrid Kowalczyk, Ayesha Quraishi, Azar Nikbakht, Bianca Kronlöf, Carina Do, Celeste Cambaza, Charley Kåberg, Charlotte Lindberg, Christofer Ericsson, Dijle Özlem Yigitbas, Eden Mehari Tekle, Ellen Elias, Francine Agbodjalou, Hanna Kisch, Iki Gonzalez Magnusson, Jessica Wejham, Judith Kiros, Justine Balagade, Kamohelo Khoraipe, Karl Lund, Karolina Brock, Lisa Requin, Makda Embaie, Malin Träff, Niklas Mesaros, P*Fect, Sanne Sandell, Silvana Imam, Spoek Mathambo, Talia Gallegos Fadda, Tiffany Kronlöf, Tsemaye Opubor, Vaughn Rice, Vilma Seth, Willy Do
An additional thanks to:
Backa Kulturhus, Doc Lounge, Feministisk Fredag på Moderna Museet, Kitcheners, Maboneng Precinct, PUB Breaking Stereotypes, RMH Management, Röda Rummet/Radio Skanstull, Stora Teatern Göteborg, The Feminine Touch Series, True Womance, WKND Social, Zen Nightclub
Flip-Flop Interactive thanks:
Arttu Kontkanen, Astrid Kowalczyk, Charlotte Lindberg, Johan Blomborg, Mikael Ingeltun, Sally Kennedy, Sanna Morén, Sarah Carton, Oscar Axhede, Victor Svedberg